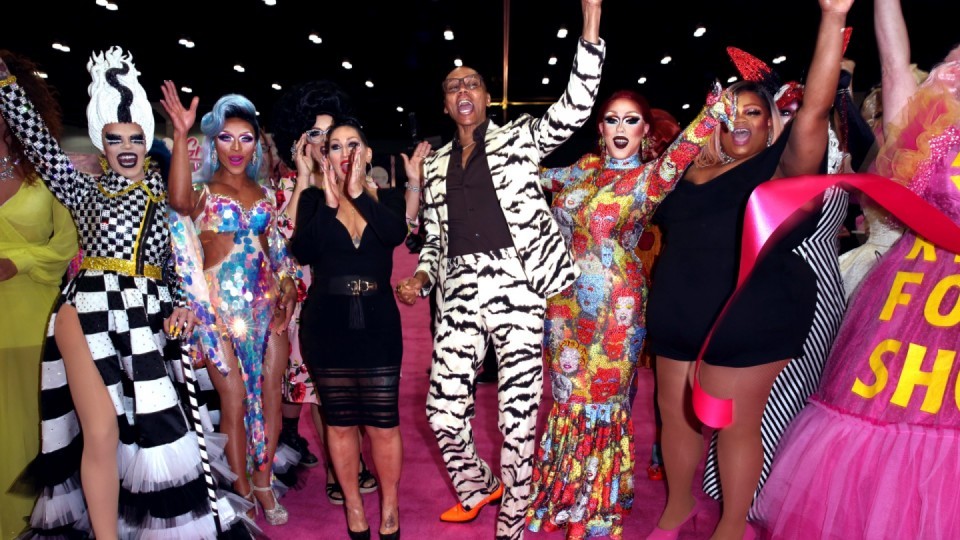 Drag Queen Database Goes to DragCon LA!
Since its creation five years ago, RuPaul's DragCon has become a shining beacon for all things drag. With a spring convention in Los Angeles, and beginning in 2017 a fall convention in New York City, Queens and fans alike have heard the call and made the pilgrimage DragCon. As the new Director of Development for the Drag Queen Database (DQDB), you better believe I was there to catch all the action! As a long time fan of all things drag, and not just RuPaul's Drag Race, it's amazing it took me so long to get there!
The convention floor was filled with booths ranging from vendors selling drag, local venues such as Micky's and Hamburger Marys promoting their drag shows, artists selling their work, and of course the legendary queens themselves from Drag Race and beyond. Down the center of the floor is the famous Pink Carpet on which the Drag Race royalty makes their grand entrances. Make sure you catch our footage of the queens walking the carpet on the QLife YouTube page! At the end of the Pink Carpet is a stage that hosts break out events, including dance parties with DJ sets by RuPaul himself!
In addition to the convention floor, there are also break out panels throughout all three days that fans can attend ranging from a live recording of Trixie Mattel and Katya's hit YouTube show UNHhhh to conversations with author/comedian Frank DeCaro on his amazing new book "Drag: Coming Through the Big Wigs of Show Business." The panels are great for fans who want to dig deeper into specific tops of drag, or see their favorites queens speak about topics which they are passionate about. Almost every panel also ends in a Q&A for fans to ask questions of the panelists!
For me though, the highlight of DragCon was the opportunity to interview the icons themselves! From Drag Race winners Trixie Mattel and Monét X Change to legendary queens such as Coco Peru and the Boulet Brothers, we got to speak to EVERYONE! My favorite interview however had to be with Season 9's Peppermint. In addition to a very successful and historic run on Broadway, she is using her platform to advocate for trans folxs around the world. You'll be able to catch my interview with her about everything she's been working on, along with my interview with all the other queens coming soon to QLife's YouTube channel. Make sure you subscribe so you don't miss out!
If you're anything like me, you can never get enough drag. Fortunately RuPaul's DragCon NYC just around the corner, coming to the Jacob K. Javits Convention Center September 6th-8th. DQDB will be there to bring you even more content and exclusives! Make sure to see it all by following us on our social media @dragqueendb on all platforms. I hope to see you all in NYC this Fall!
Andrew Lignelli is the Director of Development for DQDB, the International Drag Queen Database