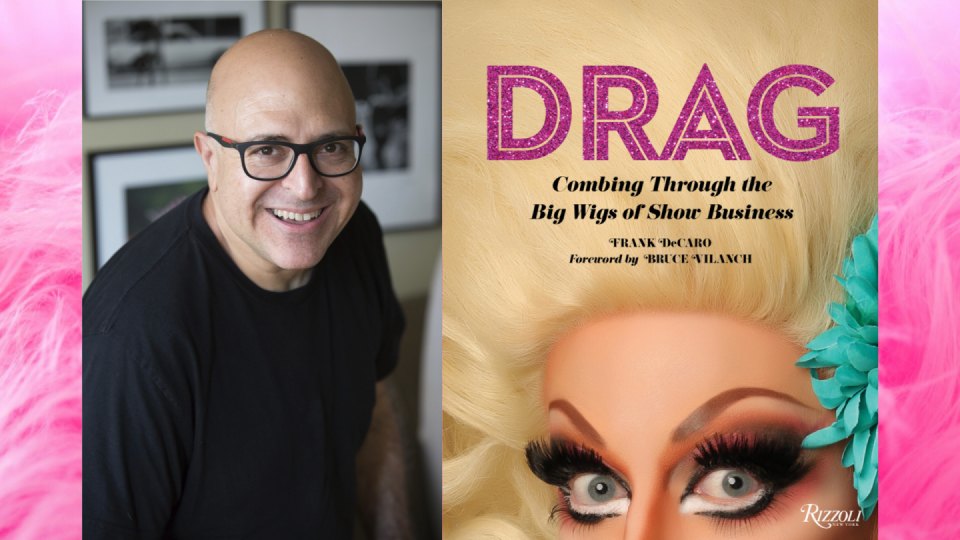 DragLife Column: Spotlight on Frank DeCaro's new Drag Book!
Drag has always been a multifaceted platform for artistic expression. From the stage to screen, to music, to the internet and even to restaurants with the popularity of drag brunches. Now, thanks to author and comedian Frank DeCaro, drag is making its mark in literature with his new book "Drag: Combing Through the Big Wigs of Show Business" which is out now! If you consider yourself a fan of Drag, this book is an absolute must-have!

The book begins with a cheeky forward, by iconic writer and performer Bruce Vilanch. DeCaro then filled the book with over 100 photos, including some from the queens' personal collections, and packed with interviews, readers will strut through the past, present, and future of show biz drag. DeCaro takes readers from Vaudeville to RuPaul's Drag Race, touching on every major moment in drag history by chronicling the trailblazers in each medium. Focusing on reigning icons such as Larry Edwards (aka Hot Chocolate), The Boulet Brothers, Varla Jean Merman, Sherry Vine, Shequida and Coco Peru, just to name a few.
Some of the most notable highlights include chapter 8 of the book. In this chapter, DeCaro takes us from coast to coast across the USA while shining the spotlight on queens in interview style entries. However, throughout every chapter of the book, there are entries titled "Legend of Drag" which come adorned with a crown and a gold glittery bar at the top of the page. These queens are some of the trail-blazers of drag that are no longer with us, such as Divine, Leigh Bowery, and Marsha P. Johnson.
Frank DeCaro is best known for his 12 years as the host of the daily national talk program "The Frank DeCaro Show" on Sirius XM Satellite Radio, and his much-lauded, six-year stint as the flamboyant movie critic on "The Daily Show with Jon Stewart" on Comedy Central.
Head on over to www.amazon.com to get your copy of "Drag: Combing Through the Big Wigs of Show Business," and don't forget to follow DeCaro on Facebook, Twitter, and Instagram at @frankdecaroshow, and visit online at www.frankdecaro.com to see if there are any local book signings near you!