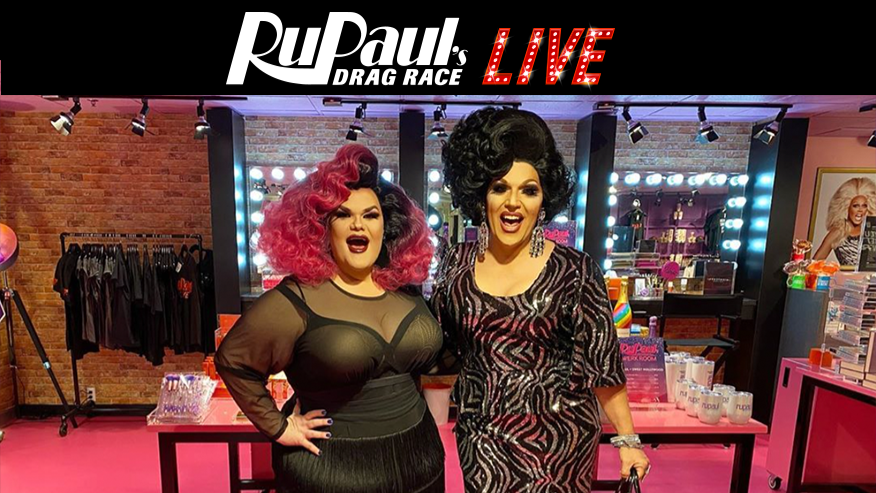 Mrs. Kasha Davis and Darienne Lake Visit RuPaul's Drag Race Live!
LAS VEGAS (Feb. 5, 2020) – You never know what is going to happen at RuPaul's Drag Race Live! at Flamingo Las Vegas! After celebrating its grand opening last Thursday, Jan. 30, the show welcomed two special guests on Tuesday, Feb. 4 – former RuPaul's Drag Race cast members Mrs. Kasha Davis (Season 7) and Darienne Lake (Season 6).
The duo chronicled their entire trip to Las Vegas on social media, starting with their drive from Palm Springs, getting ready for the evening, visiting RuPaul's Werk Room, and finally, the show, where they were brought on stage by Asia O'Hara, much to the delight of the audience. For additional photos and videos from their visit, please visit Mrs. Kasha Davis, Darienne Lake and World of Wonder on Instagram.
With over-the-top costumes, visually stunning sets and jaw-dropping performances, RuPaul's Drag Race Live! serves the audience a drag experience like they've never seen before. Each show features six queens from a rotating cast including Asia O'Hara, Derrick Barry, Kameron Michaels, Naomi Smalls, Vanessa "Vanjie" Matteo, and Yvie Oddly.
RuPaul's Drag Race Live! performs Tuesday, Thursday, Friday, Saturday and Sunday at 9:30 p.m. Tickets starting at $49, plus applicable tax and fees, are available for purchase at ticketmaster.com/dragracevegas.
Directed by RuPaul and award-winning choreographer and filmmaker Jamal Sims (Aladdin, Step Up, When The Beat Drops), RuPaul's Drag Race Live! is produced by World of Wonder, the creative team behind RuPaul's Drag Race, with Voss Events. This marks a Las Vegas reunion for RuPaul and Sims, who first collaborated in 1994 with Sims dancing in RuPaul's show at the Sahara Hotel. Original music for RuPaul's Drag Race Live! is written by RuPaul, RuPaul's Drag Race composer Leland and Tom Campbell, Chief Creative Officer at World of Wonder. The score includes RuPaul's hit songs from the past 11 seasons of Drag Race, plus original show-stopping numbers created especially for this residency.